Survival in the arena has recently become one of the most popular gaming genres. Truth be told, this is also one of the most exciting game types you have ever played! Fighting and killing in an arena where hundreds of players are ravaging is surely exciting, right? Let's enjoy the same excitement of battle royale on this awesome IO game!
Gameplay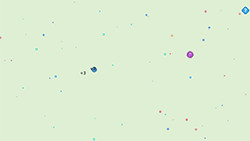 The graphics of the game is really identical with most of the IO games you can fin. However, system & rules of the game are what truly differs it from other IO games.
When you start, you'll start as a blob of color. There are tons of edible elements out there. You have to eat, grow up and become more and more powerful. Once you've become enough powerful, you can start taking down players one by one. The more you eat and kill, the stronger you become.
Controls
There are some interesting controls in this game.
Movement – ESDF, Arrow keys, cursor [will follow cursor point]
Zoom – Mouse wheel, PgUp/PgDn, Q/A
Split – Spacebar or Left-click
Eject (food) – W or Right-click
Strategy
This game features really interesting strategy that you have to follow as a must if you want to progress throughout the game. The first thing is to become more and more big & stronger.
 When you spawn, your size will be the smallest. This is completely against your advantage as others will one-shot kill you. Start earning as much as foods as you can.

When you've eaten enough food, you'll be able to split into smaller ones. This is extremely useful for farming more and more food and getting stronger and stronger. Don't worry; your split parts will gradually move towards you and merge again for getting into one single blob.
The more you eat, the more XP you earn. XP is also another important thing you have to earn continuously through your journey. The higher XP you have, the stronger you are. The stronger you are, the easier you can eat your enemies.
You earn points by eating food and killing your enemies. Once you've become the boss of the arena, your name will be written down to the leaderboard.
Oh, did I mention about skins? Skins unlock at the XP level 5. Before that, you're a plain, round blob. The skin offers tons of customizable skins.