A knife and an arena where nothing but bloodshed is the only matter – what will you do? How do you survive the chaos? Time to find out the inner monster of yours in Massacre.io! Time to crush others like ants!
Gameplay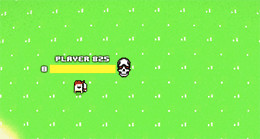 Although the game is quite brutal in sense, the gameplay will ensure that you get the most fun out of it. The avatar with all the funny actions combined will the silly but powerful controls will surely make you laugh throughout the game.
However, don't let the fun take your focus away from the battlefield. There will be your enemies awaiting everywhere in the arena, ready to send you to heaven. Fight your way through the battlefield to unlock better weapons and become even deadlier than ever. Thanks to the funny graphics, the game doesn't look brutal at all. In fact, the death cases make the game even funnier. It's a world of 2D.
Controls
Here are all the controls that you can use on Massacre io.
Movement – Arrow keys or WASD
Attack – Left-click (mouse)
Use power-ups – Right-click (mouse)
Dash – Spacebar
Suicide – Esc
Strategy
The only thing to do in the arena is to survive as long as you can and get as much kills as possible. Others who've been playing for quite a long time will have the sheer advantage in case of destructive power, but you can win as well. All you need is focus and patience.
First, your only weapon is that blunt knife on your hand. It's a short range and light weapon. Using it, you have to kill and attack others. Make sure to target the weak opponents first and avoid getting involved in any type of massive brawl. Try to collect power-ups for better survival chance.

There will be power-ups appearing in the arena every few moments. Those are really crucial to turning the tide of a fight. There are 3 types of power-ups – health, grenade, and ammo. For the first time players, the grenade is the essential weapon to kill a mob at will. Right-click on the arena to throw the grenade and let it do its task. However, the projectile isn't fast enough, so make sure to use it when it's your chance. Instead of killing a mob, you can also take care of others with the blast to get more in-game currency (gold) into your grasp.
The currency can be used for buying powerful and deadlier weapons in the shop. To buy a weapon, perform suicide or get killed. Then, head for the basket icon at the menu of the game. There are shotgun, revolver, axe etc. with better damage and range covering.