All About Slither.io Game
Slitherio is the simple, easy but interesting game for those who love to spend their free time with such browser games. The game will memorize the old snake game that you used to play on your old mobile phone. This is basically an advance version, but many other innovative features. Slither io is as much fascinating as other io games. You will really love to play it. The key feature is that make the game appealing are graphics and style.

You can decorate your worm with different skins, and have a fight with other players. Your slither, will grow by eating the whole mass of enemies. You can choose any player from all over the world to enjoy the game. The colorful game is really fascinating and you can spend hours in playing this cool colorful game. It can't be hacked.
How to play?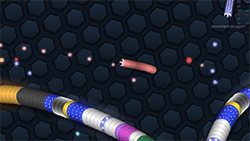 The playing strategy is very simple. In order to pay the game, you just have to move your worm on the screen in the direction of the small dots so that it can eat and grow. You can grow the height of your snake by interacting with other snake, but keep in mind avoid touching head to another snake. This will kill the snake. Make your snake as big as you can. At the end of the day, you can leave a message so that the whole world can view your message. To get top ranking is somewhat difficult task and you need some practice to get the good points.
Try to eat all leftovers and try the other snake to run into your snake's body this will help in growing the length of your snake. Avoid touching head to other snake this will lead to the death of your snake and you have to start the game again.
Interested to play isn't it. just visit the official website of Slither.io and have unlimited fun for whole day.