About Slay one
Slay one is a fantastic, online multiplayer action game. It gives you the chance to engage in ruthless and bloody online military battles.  It has the look and feel of the classic games from the 90's era. And like most games from that era it gives players the top-view of the characters and terrain. The graphics are impressive. Players can choose  between PVP (Player vs Player) and Co-Op (co-operative) playing option. No matter what option you pick, you are guaranteed to enjoy some hardcore 2D carnage.

The idea of the game is simple: Pick your player, customize their skills, pick your favorite weapons, enter the block world, seek out your enemies and destroy them completely. You earn your points by killing your opponents. There are several, awesome player modes available to all players. These are: Team Deathmatch, Team CTF, Infection and   Deathmatch.
Also, you can customize the look of battlefield using the different skins available. You can also create your own map using the map editor feature.  Several special attributes and abilities are accessible during gameplay. These abilities give you extra leverage when destroying your enemies. They include: Heal Aura, Wall, Auto Turret, Invisibility, Teleportation, Hand Grenade and Smoke Grenade. This means you can heal from devastation attacks, then reinforce and unleash disaster on your enemies. Carnage is guaranteed. However, your accumulated points determine which abilities would be available to you. 

If you are a lover of 90's retro action games or you are looking to explore the field. Slayone is the game for you. It is a fantastic game and is guaranteed to captivate players. I like it very much.  
Controls for Slay.one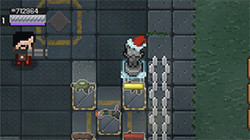 The game has no default controls.
However the following controls have been known to work well.
Keyboard Controls:  WASD buttons on the keyboard can be used for moving the characters around.
W is for moving Forward/Up.  
A is for moving Left/Sideways. 
S is for moving Right/Sideways. 
D is for moving Backwards/Downwards.
You can press and hold the F button to aim the sniper weapon.
R is used for reloading weapons.
Q and E can be used for accessing special abilities.
Mouse Controls:  The mouse can be used for aiming. You can shoot by Left-Clicking the mouse
Combined Controls: You can jump or dodge by Right-Clicking and pressing any of the WASD buttons at the same time.
You can switch weapons by pressing any number from 0-9 on the number pad.
You can also switch weapons by pushing the mouse wheel up or down.