About Ghostz io
If you are fond of online games, Ghostz io will probably be your next favorite. Ghostz io is a game made by IO games. This is one of the most addictive online game one can play. If you start playing it, you'd never want to stop. Your gamer mind will ask for more and more. This game takes place in a dark setting. It's a scary setting where you choose a ghost to play. What makes this game unique is that the ghosts have swords with them. 
Game description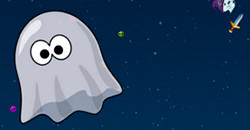 On the game page, first you have to enter your name or a nick name, then the game starts. What makes this game unique and interesting is that there are players playing at the same time from all over the world. Unlike other online games, you are not playing with a computer robot but actual gamers like you. You complete with real people. Seems like a real game right?
For instance, on the off chance that you are playing Ghostz io, your companion from another program can go along with you. He will play as well, you both can collaborate and annihilate other players. 
Once the game starts, your white ghost has to attack other ghosts by throwing a sharp sword towards them. By killing people the number of swords you possess will increase and they will protect you and annihilate others. You will also be attacked by those people and your energy level will drop. To gain energy and points smiles are there on the map, you can move the ghost and eat them.
Controls of the game 
The ghost can be moved using your laptop's or computer's mouse. Your ghost will move in the direction of your mouse. To throw a sword towards other ghosts you have to left click in its direction. To collect smiles just move your mouse towards them. 
Beware, this game is highly addictive. If you are a true gamer, I bet this game is going to be your new favorite. Good luck!