About Game
Kugeln.io is an online multiplayer shooter game. You don't need to download the game, just go to the web and start playing the game with ease. You have to fight all your opponents on the map. The game allows a maximum of eight players at a time. You'll win the match by getting the high score among all the players. The game is easy to play as the most people like. 

There are different modes of this fascinating game.
Death Match
Team Death Match
Capture the Flag
In the Death match, you have to fight against all your competitors in the game. Kill your opponents to get the highest score. The Team Death match is a little different one. In this mode, there are two teams on the map who fight each other. You can choose one for yours, it is either red or blue. Never kill your teammates. The team has the highest score will get a victory. 
Capture the flag is just like a team death match. You have to get your enemies flag to your own one to capture it. The team who has three captures first wins!
Gameplay Description
Kugeln.io is one hell of a shooting game and you are getting it at no costs. There are many games that require sign up option to play on the web. You don't need to do such things like buying stars or sign up. Just visit the web and start playing with ease. 

The basic idea revolving around the game is to kill your competitors on the map. You will face some tricky fences on the maps as well that make you think at another level. You will get higher points than other online players if you kill more than others. This is exciting when you play an online game with some other player playing at home. Most of the games on online stores are automated games in which the person plays the game with the computer. It's not exciting at all. You can chat with the players as well. You can find some upgrades in the game as well when you get some wins over your competitors like guns and arrows. 
How to Play?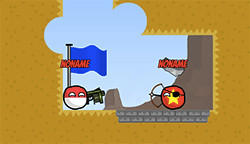 Game controls are as simple as you like. The left mouse key is used to shoot and the right mouse key to throw an arrow. 'A' and 'D' keys are used to move left and right respectively. 'E' is used when you are close to the machine gun. This Key will make you have the gun. You need to move on the map to find a gun or any weapon. Always keep an eye on your health status as well.
If it's down you can make it better in the game using hearts on the map. So, what are you waiting for? Go to kugeln io to play the game and have a lifetime best experience. Stay blessed and have fun!