We love explosions, right? Explosions make such a nice wave of fire and destroy anything surrounding it. Do you guys remember the game where you had to boom your way through an endless dungeon to defeat enemies? You had only one weapon – your bombs. The game is back with Bomber7.io! Get ready for some explosion!
Gameplay
The graphics of this game is quite nice. It's set in a 2D world, so the pixel graphics is compensating. Moreover, it brings back the nostalgic feeling of the good, old days. However, the game is modernized with nice, polished maps and other objects.

You spawn as a bomber in the battlefield. Your only target is to set bombs and blast your way through the top of the leaderboard. Your bomb will hurt both you & your enemies. So, make sure to run away from it after placing. There are also special abilities available to collect throughout the entire map. Dig them up and turn the tide of an entire brawl.
Your special abilities will be shown at the left panel of the game's screen. Use them when you need, as they're quite rare.
Controls
The game is quite simple to control. However, the special abilities add the much-needed spice in the game.
Movement – Arrow keys
Place bomb – Spacebar
Special abilities – A, Z, E
Strategy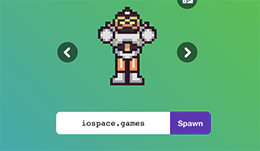 All you can here is to blast off your enemies. However, a few tricks will bring you on top of the leaderboard pretty fast. At first, when you spawn, understand the range of your bombs. The range is quite important to calculate your next move. Moreover, you'll get killed if you get hit by your own bomb. That's self-explanatory, right? So, place your bombs and get outta its range.
The bomb blast will hurt your enemies, but not kill them instantly. There's a limit how many blasts you or your enemies can take. That's why blast off as many as possible and you're guaranteed to get more kills.
After blasting the rocks, you may earn the abilities. Each of them has a count and special traits. For example, you can walk through walls. There are also negative power-ups to cause you trouble, for example inversed control.