About Pikes.io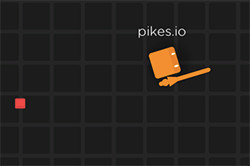 Pikes io is an addictive, incredibly cute yet epic game by Clown Games. The game is based on the battle theme with the classic sword fight style. It is a very simple game that requires good reflexes by the players.
Pikes.io will always keep you on the edge of your seats. It is free and can be played online. The game can also be downloaded on your android and iOS devices.
Gameplay
The gameplay is easy to understand. All you have to do is poke your opponents using your pike. Every other player in the arena is an opponent. As the number of pokes go higher, your pike will get bigger and hence, will cover more area. In case you become the number 1, you will also be awarded a crown. 
A side bar on the right side of screen will keep you updated on your rank in the arena. Another side bar on the left will allow you to see the time you have spent in the arena, and your number of kills. With increased kills, your points are increased and your rank becomes higher. Small square shaped colourful boxes are spread all over the arena. You can increase your boost by picking up these boxes.

There are different skins you can choose from for yourself. Some you can get for nothing and for some you have to visit Google play store or AppStore. All the skins are extremely colourful and attractive. Moreover, you can also name yourself whatever you want. During the game, you would be able to identify yourself as well as all your opponents. 
Controls    
All you need is your mouse to play Pikesio. Just roam around the arena by rotating your mouse or playing with your keypad. With right click or a tap on your keypad, you would be able to boost your speed. This will help you escape your opponent or chase someone you want to poke and kill.