About Surviv.io 
If you are looking for a game to captivate your mind with some awesome graphics, you are at the right place. Surviv io is a game by IO games who are very well known for many of their online games. Basically, this game is a 2D battle Royale. 
Gameplay description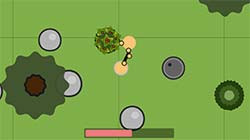 Survivio starts off with your character which is empty at the moment. Move around the map to find weapons, loot, ammo, medical items and scopes. Use these weapons to destroy other players on the map. Once you kill them, you will have access to all the stuff they had possessed. Meanwhile, other online users will also try to attack you, so be prepared to defend yourself at all times. If your health runs low, find medical items on the map to restore it. Once, a person is dead, there is no comeback, the game will have to be started again. 
The game can be played solo and in a duo. In duo mode, you team up with other players and fight against the opponent team members. You cannot attack or eliminate your own team members. If one team member dies, the game is ended. You can also create your own team, send the link to your friends and play with them.
Controls to play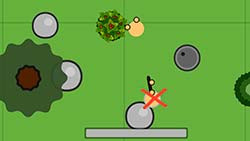 Use your mouse of the PC or computer to aim and left click for shoot or punch. Use "W, A, S, D" to move. To change the weapons press 1 or two. Or just scroll your mouse. To reload the gun press "R". To scope zoom use mouse left click on Zoom, to collect the loot tap on the letter "F". To practice the medical piece Left click on the piece or tap "7". Drop the item by clicking right and cancel an action by pressing "X".
You can view the map by pressing "M" or "G" and if you want to the closure of mini map push "V" key. Use Team Ping Wheel by pushing "C", then hold right click and drag your mouse, then take of your hand from mouse. To use emote wheel, drag the mouse by keeping hold on the right click of mouse, and then release clicking right.