About Game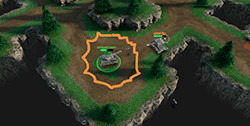 Tanx io is the easiest game to play and it is a 3D tank machine that you are using to kill your opponents. Turn into a tank officer and battle with others in a little field. Battle your enemies to win a fight between 4 distinct groups. Drive your tank into adversary lines and destroy all enemies there on the map and get on top of all! It is an online multiplayer game so all your enemies are not fake at all. They are humans so beware of them and make sure you are the one standing last on the field.
Gameplay Description
It is a group based tanks game and the point is to kill all your enemies as soon as possible. If you don't, they will. Gather repair units and ammo to not come up short on ammo or get destroyed in the game. Ammo and repair kits help you make yourself safe. Remember the positions of these amusements and reach there if you are in trouble.  Always try to be with your group or teammates to secure the win!

Likewise, do not wait for any leaderboard since you're a group with different players. Both need to help each other well keeping in mind the end goal to wind up the first group to slaughter the 32 opponents. I would like to say, you should demonstrate your forcefulness at the absolute starting point. That implies when getting any enemies, aim them carefully and shoot them down. What's more, keep in mind to watch a little board at the bottom of the screen to know what number of enemies you destroyed.
There are some tricks for you as well. One of them is shield is often placed in the middle of the field. Try to attack the base of your enemies and kill the newcomers as they never know what is happening out there in the field.
How to play?
You can use arrow keys or WASD keys to move on the battlefield. The mouse is used to aim and shoot the opponent. The game controls are simple and easy. Isn't it easy for you to play this fabulous game?
Try this game and have fun!