About Agar.io
Agario joins diep.io as the creation of renowned developer, Matheus Valadares. As a creator with an expert eye for quality, Mathaeus incorporates visual appeal, originality, replayability and uniformity to Agar.io. Having embodied the sterling features of great games, Agar io is a game that one will replay too many times. The game concept is simple, eat smaller cells but make sure the big ones do not eat you else, you start again. Agar.io is published by Miniclip and available on multiple platforms as web browser, iOS, android, Microsoft windows, Linux, Macintosh operating systems. This game is always unblocked.

Gameplay description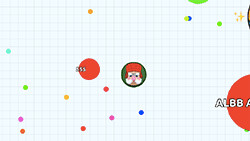 The game is about the movement of cells in a vast colored expanse. Player's aim is to eat smaller cells while his cell avoids bigger ones that can engulf it. The cell moves about randomly as controlled by player throughout the game session. Swerving and dodging skills in particular are highly required here.
The multiplayer online action game records food eaten, time alive, cells eaten, highest mass, leaderboard time, and top position for every result. This gives players an overview of how they fared in every session played. 
There are three item options to play - FFA, Teams and Experimental. In FFA, which means For All Action, a player is required to eat other players to be the biggest cell on the block. For Teams, a player has the access to join up for team-mode group action where members can co-operate, compete, and eat. The experimental game mode entails avoiding strange food-producing virus.  
Party mode is a special feature of Agar.io too that allows players to compete with friends in the same area. They can either create or join. A short link is given if one creates so other players can join when they have access.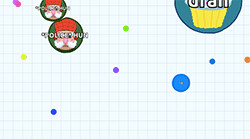 Playing as a guest has a limited functions but to enjoy the game's buzzing benefits get an account and upgrade. An upgrade account gives you bonus starting mass, free coins every hour, saved progress, access to play on multiple devices and gifts for friends.
Free coins, gifts, daily quests, potions, and shop are exciting options players get to unravel by their performance and purchasing power. Here you can buy unusual skins.
Part of why Agar.io has a huge fan base is its simple rules and easy concept. Players tend to be familiar with the game's element because it reflects everyday life while we try to evade oppositions and blocks- from crossing roads, to playing rugby. Players also get to influence the course of the game. This gives more control- something everyone looks forward to in the game.    
Controls
Controls are easy. Move the mouse to control the cell, press Space to split, and press W to eject some mass.