About Zombsio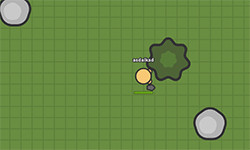 Zombs io isn't just another game joining the zombie-craze. With a unique approach to gameplay, you'll be pulled into a world where your only hope for survival is protecting your base! By collecting wood and stone, you'll be able to build towers and walls. In order to boost their strength, you'll also need to fashion a goldmine, which will give you the ability to spend gold on upgraded weapons and protective infrastructure.
The Objectives
Build your base quickly before the zombies begin attacking! Using your pickaxe, gather wood and stone to build up your fortress. When you're ready, place your gold and zombies will attack come nightfall. 
You'll need to build gold mines in order to generate more gold, which you will need to upgrade your towers and walls so you don't get beat by the zombies. Gold will also give you access to the store where you can upgrade your pickaxe and purchase weapons to help you defend yourself against the impending zombie attacks. 
Build a gold stash so you can establish your base, and begin defending it.
Use your pickaxe to collect resources to upgrade your base.
Use your supplies to build towers to defend against the zombies.
Build gold mines to generate gold and upgrade your infrastructure.
Use gold in the Shop to buy weapons and upgrade your tools. 
How To Play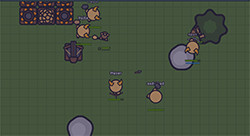 Use W, A, S, and D to control your movement across the map. You can turn with the use of your mouse, auto-attack using the spacebar, and gather/attack/build with a left-click. Right-clicking or the Escape button will let you deselect an object. Quick Upgrade with E, Quick Sell with T, Quick Heal with F, and Hold Shift or Alt to upgrade everything at once.
You can also cycle through your available weapons by pressing Q, and enter the shop by pressing B. Finally, you can open the party menu with P.