In the world of fantasy, vampires have always been a major part. Since the ancient times, people like to listen to stories of vampires; how they kill human for sucking the blood of the victims. Not to mention that many loves vampires more than humans! Now, it's time to choose your side – human or vampire on this brand new IO game – Kikiki.io!
Gameplay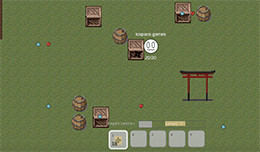 For an IO game, the graphics is quite cool looking. Although it's not so polished, more than enough to give you serious Goosebumps during any confront. At the starting, you have to choose your side – vampire or human. Each side has their own advantages or disadvantages, but vampire side offers greater power than humans. However, a good player can easily dominate the arena with a human side.
The land is quite rich in natural views. There's so special game modes in Kikiki.io. The only mode is survival – human vs vampire. Give your best shot!
Controls
The game has very simple controls.
Movement – WASD or Arrow keys
Shoot – Left-click (mouse)
Change weapon – 1, 2, 3, 4, 5
Strategy
This game is full of interesting elements and abilities that will really make everything quite exciting. Both humans and vampires have a different strategy.
As a vampire, you have very interesting abilities. First of all, you have a lightning ability that can shoot lightning bolts to your enemies. Moreover, there are fireball and dark matter. Dark matter is like a poison spell. You select dark matter, click on a region and the area will be covered with dark poison, damaging your enemies over time. You can upgrade all your abilities.

As a human, you have a better arsenal. You have bananas (mine, actually), arrow, bomb, ninja shuriken and Nikita (homing missile). Bombs give you splash damage ability. Arrows are a single shot. Nikita is the most powerful one with guiding ability.
At first, your power is nothing. There are consumable objects lying all around the arena. Pick them up to upgrade your XP and level. The higher your level, the more powerful your weapons can be. Don't forget to upgrade them.
Note that everyone is everyone's enemy here. So, show no mercy to anyone – vampire or human, irrespective of your choice.