About Oceanar.io
Oceanar.io is a unique ocean themed game made by IO games. It is from the family of other games such as moomoo.io, mope.io, gartic.io and etc. If you love fishes and sea animals this game will be of great interest to you.
Game description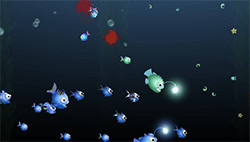 There are two types of gameplay. As "oceanario classic" is an online game, there are other players playing the game too. Your friends can also join the game and you both can play as a team against other players from all over the world. First of all, you enter your nickname and start the game. Your queen fish swims around the ocean and eat food in form of small fishes. As it eats more and more baby fishes emerge with it. The fishes have to be protected from other big fish clans and giant jelly fish which eats them. The score increases as the size of your fish clan increases.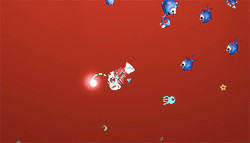 The second mode which is available is called the "Puffer deathmatch". In this mode, you swim your green queen fish towards white fishes and covert them to green. The fishes convert their color as your fish. You also protect your school from jelly fish which will attack them. To restore the health of damaged fish they are to be fed. This mode of the game is my personal favorite as I can play on my own without intervention of other strong online opponents. 
Controls of the game
To move the fish around the ocean in any direction, use the mouse of your PC/computer. To attack the opponent click left. Apart from the mouse, keyboard can also be used to play this game. To attack press "W" key and to merge press the space bar.