Hack-n-slash is a really exciting genre where you fight against your enemies face to face. Fighting off enemies with a sword in hand is quite cool, right? How about a hero of your dream with a sword in hand, slashing everyone else to the path of victory? For the action lovers, Evowars.io is one of the finest and most exciting games in the world of IO.
Gameplay
In this game, your avatar is a warrior who's on the quest of conquering the battlefield. He wields a weapon in his hand that can be waved around. Using all the resources on the battlefield, your avatar can be upgraded into a deadlier, more powerful, honorable mercenary.

The graphics of this game is quite similar to any other IO games. However, the initial avatar of you looks quite funny. The higher rank your hero goes, the more awesome skins and weapons will be available. Prove your worth in the arena to get your hand on the most powerful forms. Here are several types of warriors available.
Caveman [level 1]
Viking [level 2]
Warrior [level 3]
Knight [level 4]
Musketeer [level 5]
Ninja [level 6]
Pirate [level 7]
Spartan [level 8]
Samurai [level 9]
Soldier [level 10]
Hooligan [level 11]
Cyborg [level 12]
Controls in Evo Wars io
The game features very simplistic controls. However, in order to master the battlefield, you have to use your brain.
Movement – cursor [your avatar will follow your cursor]
Attack – Left-click [swing your weapon]
Dash – Right-click [consumes XP]
Strategy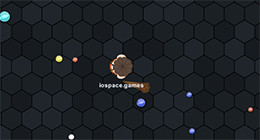 This game is full of pure excitement. You need to keep your head cool, understand your ability + the situation and pave your way through this.
The interesting thing is, your attack will simply weave your weapon. If your weapon touches an enemy, he'll take damage. That's why the range of your weapon is important to keep in mind. If you're an "adblock" user, you should consider disabling it for the game, as non-adblock users get 25% extra weapon length. That's a big game changer.
There are total 17 evolution levels available. However, not all of them are available in the browser edition. In order to unlock all of them, you should consider installing Evo Wars.
Dashing is an interesting feature. Once you evolve, the XP bar will reset. When you dash, your movement speed will increase. As long as there's XP in the bar, your dashing will continue. Use it with caution, as you may need more time for reaching the next evolution level.
When you spawn in the arena, your size is pretty small. There are consumables all around the arena, so your first target should be avoiding clashes with other players and eat them continuously. The higher you evolve, the larger you & your weapon will be. As you already know, longer weapon gets you a bigger advantage against all the players.